Biography - Early Career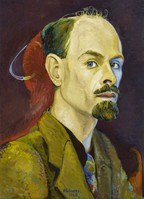 Edwin George Lucas was born in Leith in 1911, the second of 3 children. He was educated at Juniper Green Primary School and then George Heriot's in Edinburgh.

He showed talent in drawing and painting at an early age, but his family strongly discouraged him from considering it as a career. This was due to the fate of his uncle, Edward George Handel Lucas, who although he is now a well regarded Victorian artist, struggled to make a decent living and lived the latter part of his life in poverty.

So Edwin joined the Civil Service when he left school and subsequently took a Law degree at Edinburgh University. Nevertheless he was a very active artist, self-taught apart from art classes at school and attending life drawing evening classes at Edinburgh College of Art for a number of years.

---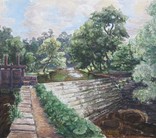 Throughout the 1930s he worked mainly in watercolours, with a strong emphasis on the landscapes close to the family home in Juniper Green. See the
Early Watercolours
gallery for paintings from this period. He had his first work accepted for exhibition by the Society of Scottish Artists in 1934. Another painting of his in the SSA exhibition of 1937 attracted attention in France from
La Revue Moderne des Arts et de la Vie
.
---
Surrealist Phase
Edwin was close friends with Anne Smith, a student at Edinburgh College of Art. Through Anne he became friends with other art students, including Wilhelmina Barns-Graham, who became a prominent member of the St Ives group that played a significant role in the development of British modernist art.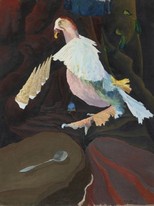 In 1939 Edwin started subletting Barns-Graham's studio at 5 Alva Street, Edinburgh and in August 1939 he started what he later referred to as a "brief flirtation" with the Surrealist movement. This was just a couple of months after the New Era Group, including William Gear, held a Surrealist exhibition at Gladstone's Land in Edinburgh. Gear was a close friend of Barns-Graham and it seems likely that Edwin attended this exhibition. It's tempting to think that the exhibition, or other contact with Gear and his associates, provided the catalyst for Edwin's interest in Surrealism.
Edwin produced numerous
Surrealist Paintings
and
Surrealist Drawings
during the period 1939 to 1941, but although surrealist elements were a very important part of his work thereafter, he stopped regarding himself as aligned to the Surrealist movement. He preferred to think of himself as a purely individual painter. However, he acknowledged that his flirtation with Surrealism had been a greatly liberating experience in both content (subject matter) and treatment. This period also coincided with a switch to working mainly in oils rather than watercolours.
---
World War II
Edwin was a committed pacifist throughout his life and was a conscientious objector during the Second World War. As such he worked in hospitals, in the North East of Scotland for a while, then at the Royal Edinburgh Hospital. He resumed his studio life at 5 Alva Street when he returned to Edinburgh in 1944. He became friends with the Polish artist Aleksander Zyw who also had a studio at 5 Alva Street at this time.
Post War Years to 1952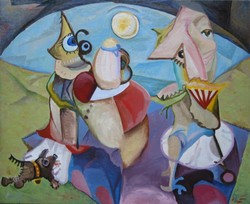 The immediate post-war years were a very creative and prolific time for Edwin. He returned to work for the civil service, but he regularly attended life drawing evening classes and regarded himself as a serious painter who had a day job to fund his art.
For him the purpose of art was the enlargement of experience and, in painting, that meant continual innovation. This led him to produce unorthodox, experimental work, much of which is unlike anything his contemporaries were doing. His lack of formal training may have been a strength in a way, leaving him largely free from pressures to conform. See the galleries of
Mature Works 1940s
and
Mature Works 1950s
for examples of where this took him.
---
Meanwhile, he continued to find rich inspiration in the landscapes of the
Water of Leith & Pentland Hills
, and he continued to use
Watercolours
for some of these later landscape works. Another of our galleries shows paintings inspired by the Old and New Towns of
Edinburgh
.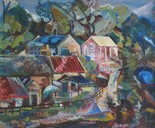 Edwin's work was regularly accepted for exhibition by the major exhibiting societies in Scotland (the SSA, RSW and RSA). However a conservative selection policy on the part of these societies, together with the absence of the independent galleries we are used to today, meant there were few opportunities to show his most innovative work. Undeterred, he continued to innovate and refused to create a personal style by self repetition.

He held two one-man shows at the New Gallery, Shandwick Place, Edinburgh, in 1950 and 1951 but these received little attention from the art establishment.
---
Later Life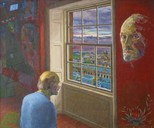 Following his marriage in 1952, he stopped painting in favour of domestic and family responsibilities, except for a spell in the 1980s when he painted a few
New Works 1980s
. His painting was brought to an end by deteriorating eyesight, but he held exhibitions of watercolours at the Queen's Hall and oils at the Scottish Arts Club, both in 1989. He died of leukaemia in 1990.
---
Posthumous Interest in His Work
A successful retrospective exhibition was held at Hanover Fine Arts in Edinburgh in 2009 and further exhibitions were organised by the family at the Gladstone Gallery in 2010 and in Juniper Green in 2012.
Edwin is also now represented in public collections belonging to the City of Edinburgh, NHS Lothian and the Scottish National Gallery of Modern Art. Five of his works were shown in the National Gallery's New Acquisitions exhibition which ran from October 2013 to May 2014, and another two were shown in the Edinburgh City Art Centre's A Capital View exhibition from May to July 2014.
The National Gallery exhibition led to the press hailing the discovery of a "lost Surrealist". See the
Press / News
page for links to some of the press articles. Bourne Fine Art hosted an exhibition of Edwin's Surrealist works in April 2014. This was so successful that a follow-up exhibition was held at the Fine Art Society in Edinburgh in February 2015.